Leek Types of onion, differences, uses how to differentiate them 2022
The leek is a vegetable, a cultivar of Allium ampeloprasum, the broadleaf wild leek. The edible part of the plant is a bundle of leaf sheaths that is sometimes erroneously called a stem or stalk. The genus Allium also contains the onion, garlic, shallot, scallion, chive, and Chinese onion.
Leek . Leeks look a lot like scallions but they have nothing really to do with them . They are larger than spring onions , the white part is tender and soft, the green part is woody and is best reserved to intensify the flavor of dishes.
Generally, there are different varieties of the same vegetable, and it depends on this one that is recommended for one use or another. It is the peculiar case of the onion, loved by many and hated by many others, the one that makes us cry every time it corners us on the cutting board, but that gives a unique flavor to each recipe where we include it.
Generally, white or yellow onions are very common in our kitchens. Still, the truth is that there is an exciting range of types of onion that we will present to you below, which will indeed form the perfect complement to your following dishes.
Leek Types of onion, differences, uses how to differentiate them 2022
The onion of the Allium cepa species is an essential ingredient in our gastronomic culture; it provides a sweet flavor when it is used cooked and a spicy touch when it is served raw. But do we know the different varieties?
Today it is easy to find more than a dozen varieties of onion, some more common and others more "rare," that is why it is challenging to know the proper use that we should give each variety, but do not worry because we are going to help you with a simple guide.
The onion is one of the star ingredients in our kitchens because it is preserved for an extended period and is cultivated throughout the year., but you have to think that the onion has an ideal season. The spring/summer harvested onion available for sale from March to August, with no recently harvested onions, tends to have a milder, sweeter taste, making them excellent to eat raw.
However, the onions harvested in autumn/winter come from the same plant as the previous ones but are left to mature under the ground for a few more weeks. Hence, they become more giant onions, with thicker skin and less humidity. these are great for storage and have a spicier flavor making them ideal for cooking.
Let's see below the different varieties that are easier to find.
Spring onion
The chives are long and thin, their flavor is sweet and mild, so they can be eaten raw or cooked and used in countless dishes.
Appearance: They are bright white with green stems; they are usually sold in bunches.
Taste: They provide a mild flavor; their texture is juicy and crisp at the same time. The green stem can be chopped to accentuate the flavor as fresh chives or parsley.
Leek Types of onion, differences, uses how to differentiate them 2022
Advice on purchase and storage: The season for this variety is from the end of spring to the end of summer, when they are freshly harvested and provide maximum flavor. The white part must be firm and shiny, without humidity or stickiness, the stems must be robust, wilted bunches must be avoided.
They should not be stored in plastic bags because their high moisture content makes them rot quickly; the best option is to keep them in a mesh bag inside the vegetable drawer; this allows air to circulate but prevents them from drying out. If the spring onions have roots, it is best to cut them; they can be kept in a glass jar with 4-5 cm of water in the refrigerator for up to a week. I leave you a photo of the bags that are used for the conservation of onions and other vegetables:
Uses: Together with garlic and ginger, it is ideal for frying. Spring onion pancakes are quick to make and taste great; adding chopped fresh spring onions to fillings or Teriyaki sauce is a great idea.
spring onions
Scallions and spring onions are very similar in appearance and taste; they are yellow, red, or white onions but harvested from the ground more quickly when the skin is still thin, and the flavor is milder than that of the white onion.
Appearance: They have the same appearance as the spring onion, but it is not entirely straight with a bulb at the bottom.
Taste: They have a mild flavor, although they have a spicy point if they are consumed raw. Cooked, they are tender and sweet.
Purchase and conservation advice: The purchase advice is the same as spring onions. In the case of conservation, reusable mesh bags are the best option, but if you do not have this type of bag, you can slightly moisten a kitchen cloth, wrap the onions, secure the towel with a rubber band, and then store them in the vegetable drawer. This technique can last for months or even up to a year and a half.
Uses: This variety is used in the famous calçotadas of Catalonia; the idea is to grease the onion with the stem included, put them on a charcoal grill until they soften, and serve them with romesco sauce. They are also delicious to use on hot dogs as an alternative to sauerkraut.
Vidalia onion
Vidalia is the trade name for the sweet yellow onion grown in Vidalia, Georgia. This onion has a shallow pyruvic acid content, the acid responsible for our tears in the kitchen. Within the varieties of onions, it is one of the softest.
Appearance: It has the appearance of a top, narrower at the stem and root, and broader in the central area. Its skin is yellow and thin, similar to paper.
Taste: Very sweet and fresh, ideal for eating raw.
Advice on purchase and conservation: The ideal is to buy them between the end of April and the beginning of September; the medium ones without dark spots are the best. To store them, the best is to wrap each onion in a sheet of paper and store them in the fridge; they will stay optimal for weeks.
Uses: In late summer, when Vidalia onions and tomatoes are at their best, combining both vegetables in a simple salad with oil and vinegar dressing is excellent. When the weather gets colder, it will be delicious to make a good plate of macaroni and cheese. This type of onion, when caramelized, is ideal as an accompaniment, for example, with a rich mashed potato.
ramp, wild leek
These wild leeks have a flavor between garlic and onion at the base that softens in the leaves, which are also edible.
Appearance: Similar to spring onions but with large smooth green leaves at the end of the stem. The union of the base with the leaves usually has a magenta or purple hue. It is a type of onion that is quite expensive in many cities; however, in others, it grows spontaneously in certain places.
Taste: Its flavor is like a hybrid between garlic and onion, with an uncanny resemblance to the taste of cheese. The leaves are edible, and their flavor is noticeably sweeter and milder.
Buying and conservation advice: The ramps have an abridged season; it is normal to find them in the markets from the end of winter to the beginning of spring. Its lower part must be firm, not slimy or soft; the stems and leaves must be shiny without wilting signs. It's not one of the longest-storing vegetables, but it can keep in a reusable mesh bag in the crisper for a few days.
Uses: Roasted, pickled, to make Mapo doufu (a popular Chinese dish), to put in chorizo ​​quesadilla, to add to frittatas and crackers, to put in fresh asparagus soup or risotto, even to put in the butter on toast.
yellow onion
The yellow onion is one of the most used onions in the kitchen due to its forceful but not strong flavor, which makes it very versatile for its culinary use. There is a variety within this one, generally labeled under "Spanish yellow onions," they have a milder and sweeter flavor that makes them ideal for eating raw.
Appearance: Its size can be between a golf ball and a baseball approximately. Its flesh is light yellow or golden, and its skin is papery.
Taste: It has a remarkable flavor when raw and is very smooth when cooked.
Advice on purchase and conservation: They are available for sale throughout the year, but in summer and early autumn, they have a sweeter taste. When buying, you have to look for onions with consistency that are heavier than they seem for their size. If you plan to use the onions within weeks of purchase, they can be stored at room temperature in a cool, dark place. If you want to keep them longer, the idea is to wrap them individually in paper and put them in a breathable vegetable storage bag in the refrigerator. This onion can be stored, cut, and wrapped in plastic in the fridge for a few days before it becomes "pocha
Uses: Their uses are the most varied, they are ideal for inclusion in soups, stews, stews, and they are deliciously caramelized.
White onion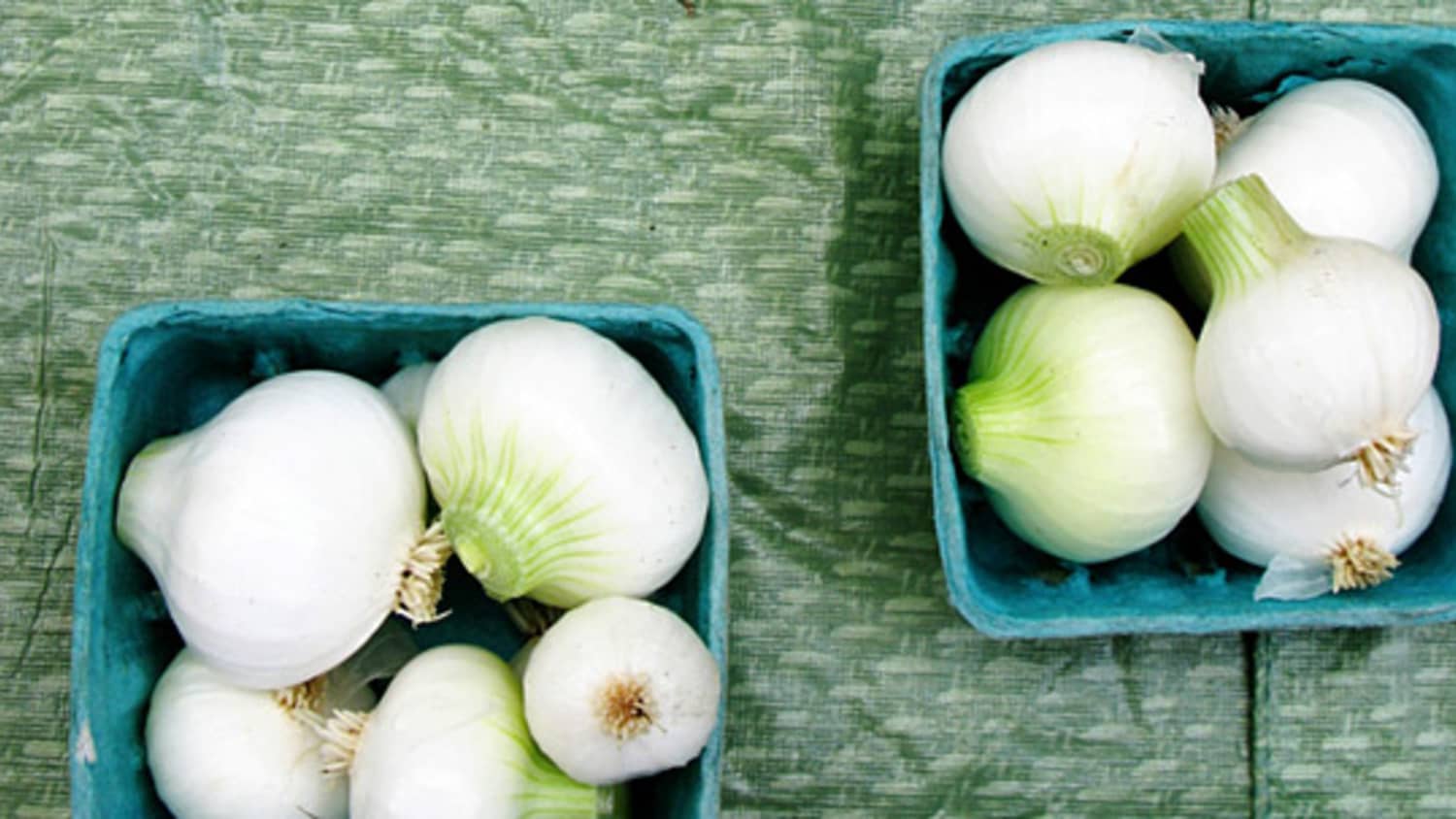 Many people do not know how to distinguish between white and yellow onions, but the truth is that white onions are somewhat sweeter and have a cleaner flavor; the problem is that they are kept for less time than yellow onions.
Appearance: The appearance and size are the same as the yellow onion, but its flesh is white and shiny, the skin is also white.
Flavor: The flavor is milder than yellow onions, so they are ideal for eating raw.
Buying and storage tips: White onions are available year-round, and the flavor is the same regardless of the season. When buying them, follow the same advice as buying yellow onions. They must be stored in a dark, dry, and cool place; they are more perishable than yellow onions, as we have mentioned.
Uses: Due to its mild flavor and crisp texture, it is ideal for salads to add thin slices to a sandwich or on a delicious pizza. This type of onion is prevalent in Latin American cuisine, which is added to eggs, rancheros, refried beans, or Cuban picadillo.
Red onion
Although red onions can be rough and intense, they are ideal for including raw in many recipes due to their great shine and crunchy texture and being very aesthetically pleasing.
Appearance: Its size varies like a white or yellow onion; its flesh is bright white with dark red or purple hues, its skin is paper-like.
Taste: When raw, it is spicy, with a strong flavor; however, when cooked, this flavor softens a bit.
Advice on purchase and storage: They are found all year round, but summer and early autumn have a milder flavor as their acidity intensifies throughout the winter. When buying, you have to look for firm and hard onions, which weigh more than they appear. You can follow the same advice as for yellow onions; store them in a dark, calm, and dry place.
Uses: They are ideal to use raw for dishes such as ceviche or on tacos, hot dogs, pizzas, etc. A delicious salad with cherry tomatoes and peppers will not leave you indifferent; the red onion jam is a delight to use as a topping on a hamburger or eat on pancakes.
shallot
The shallot is a type of onion typical of French cuisine, where it is included in classic sauces such as mignonette. It is also an indispensable ingredient in Asian food, often used in crispy stir-fries or ground into curry pastes.
Appearance: Shallots can be available in various varieties whose shape and size change, but the most common to find is small, elongated, and with an external appearance similar to that of a yellow onion; its flesh is white with purple tones.
Flavor: Its flavor is softer than red onion but firmer than yellow onion; it has a touch of garlic.
Buying and storage tips: They are available all year round, but their flavor intensifies during winter storage. When buying them, you have to look for firmness, that they are compact with shiny skin and without spots. To store them, you only have to leave them in a dark and cool place in the kitchen; they will last for several weeks or a month approximately.
Uses: Used thinly sliced ​​and fried topping on Thai curry noodles, rice soup, or deviled eggs, minced in a vinaigrette for a crispy texture and flavor addition. Shallots are also widely used in a typical Thanksgiving dish called Green Bean Casserole, and toasted under-baked chicken is delicious.
pearl onion
The pearl onion is sweet and can be found in different colors, although the most typical is white.
Appearance: They are the same as white onions but much smaller in size, like a golf ball.
Flavor: They are much milder and sweeter than bulb onions.
Purchase and conservation advice: They are generally found throughout the year; it is expected that they are sold in meshes or frozen peeled.
Uses: The biggest problem with this type of onion is peeling them. The ideal is to blanch them in hot water and remove the skin by sliding it with your fingers to make this task easier. Once peeled, they can be used in gratin creams, glazed, roasted with balsamic, etc.
cippolini onion
The cippolini are small flattened yellow onions; they began to be widely used in luxury restaurants and sold in gourmet stores.
Appearance: Slightly larger than pearl onions, round but "squashed" (mushroom-like) in shape, with pale yellow skin.
Taste: Extra sweet.
Purchase and conservation advice: They expire throughout the year, generally in mesh bags. They should be stored in a cool, dark place.
Uses: The cippolini are a bit cumbersome to peel; you have to cut the roots and the stem with a very sharp knife and after this, carefully remove all the skin. Due to their high sugar content, they are ideal for caramelizing, roasted they are simply a delicacy. An exquisite dish is to saute them with green beans and mushrooms and roasted cippolini with balsamic vinegar.
Leek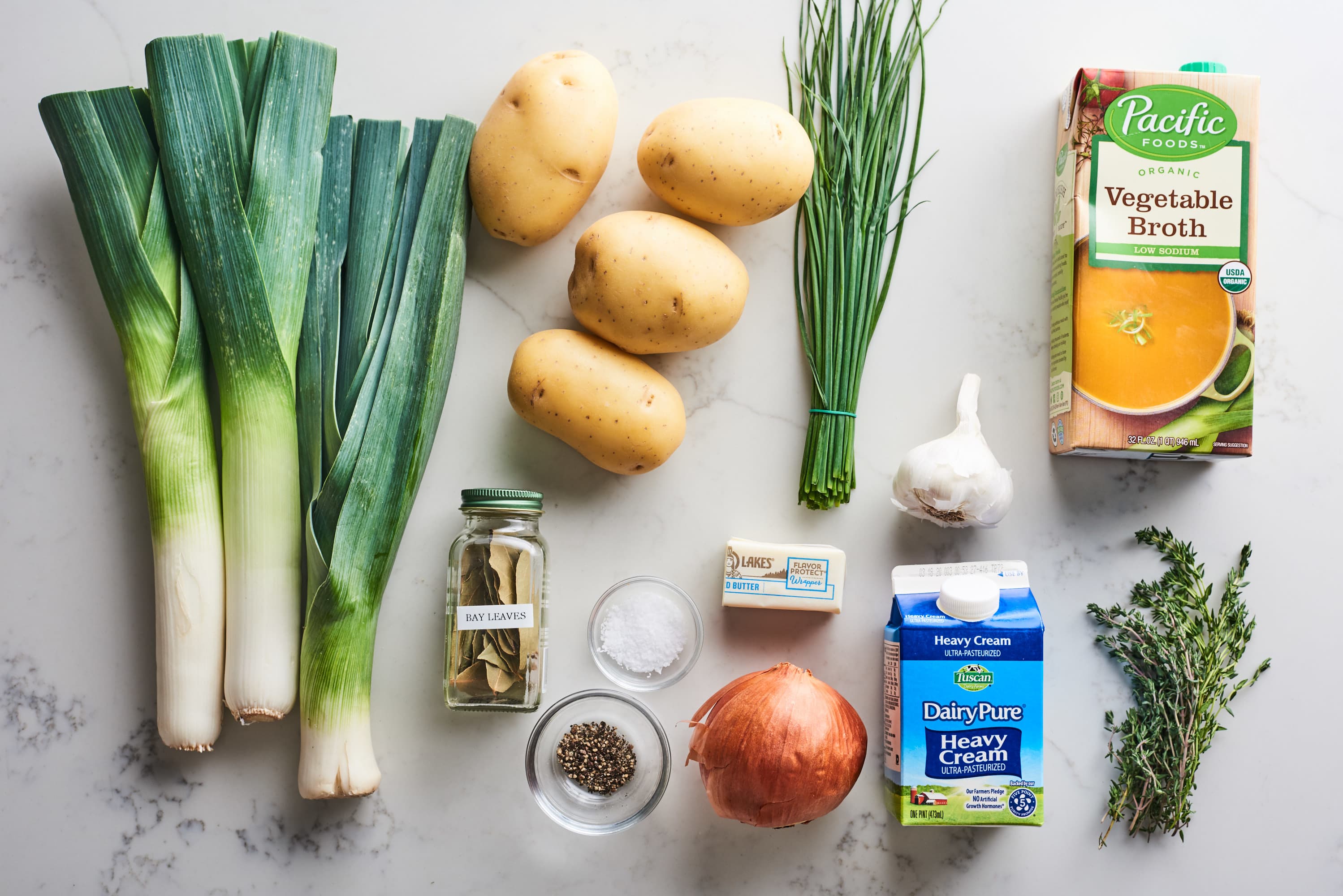 Leeks look like scallions, but they have nothing to do with it. They are larger than spring onions; the white part is tender and soft, the green part is woody and is best reserved to intensify the flavor of dishes.
Appearance: You have to be very careful because it can be normal to confuse them with spring onions.
Taste: They are incredibly mild, with a very intense sweetness, but are not usually eaten raw because leeks are very fibrous.
Advice on purchase and conservation: They are usually found in supermarkets from the end of autumn to the beginning of spring.
Leeks usually have a lot of sand attached to them, so it is essential to wash them very well before starting to cook them. Suppose they are not going to be used at the moment. In that case, the best way to preserve them is to cut the green stems and put the leeks in a reusable mesh bag or wrap them in a slightly damp kitchen towel, put a rubber band on them, and put them in the drawer of the vegetables; they will last a week or week and a half approximately.
Leek Types of onion, differences, uses how to differentiate them 2022
Uses Raw they are stringy and challenging, but they are incredibly soft when cooked. Leek soup with lemon and dill is a great and economical dish for the winter; sautéed leeks as a side to meat are a healthy and delicious alternative. Making a cream of leeks to put under a braised fish is a perfect combination, and they can also be used sautéed in a sandwich.
As you can see, there are onions for all tastes. We leave you below a somewhat illustrative comparative image that can help you at the time of purchase :
Spring onion
spring onion
wild leek
yellow onion
White onion
Red onion
shallot
pearl onion
Cippolini onion
types-onion-02
And you, what kind of onion do you use most in the kitchen? alliums, so they're related to garlic, chives, shallots, and onions. Tasting them, you can tell. They have a sweet, oniony flavor that adds depth to …
Does a leek taste like an onion?
Leeks are alliums, so they're related to garlic, chives, shallots, and onions. Tasting them, you can tell. They have a sweet, oniony flavor that adds depth to soups, stews, pastas, and more! … However, because they're milder than most other alliums, I also like to enjoy them on their own.
Is a leek the same as a green onion?
A leek is a vegetable that is part of the onion or Allium family, much like onion, garlic, shallot, scallion, and chives. … It's similar to a very large green onion (or scallion). Leeks have a mild, onion-y garlic flavor that's much more nuanced and sophisticate than an onion.
What part of the leek do you eat?
Consider the leek. It's majestic, a titan in the onion family. Mostly just the white and light green parts are eaten, though the darker green parts have plenty of flavor and can either be cooked longer to tenderize them, or used when making homemade soup stock.
Is leek the same as spring onion?
Leek is a vegetable that belongs to the same family of flowering plants that onions and garlic do. … Unlike onions and spring onions that have a bulb inside the ground, leek has a sheath of leaves under the ground that is cut before it is sold in the market. Though leeks taste like onions, they are crunchier than onions.
Related searches
leeks recipes
what are leeks good for
leeks shop
how long to cook leeks
growing leeks
wilted leeks
stovetop leeks
how to roast leeks
How to cook eggplants quickly and easily recipes for all tastes 2022
Benefits of Mushroom Nutrition healthy recipes to include diet 2022
Limes: Nutrition, Benefits, Uses, and Side Effects 2022
How To Cook Sweet Potatoes Oven Evolving Table 2022
Leek Types of onion, differences, uses how to differentiate them 2022
Last update on 2022-09-30 / Affiliate links / Images from Amazon Product Advertising API